Escalante village: Located in Durango, Colorado, Escalante Village is a hidden gem that offers visitors a unique and peaceful retreat in nature. The village is situated along the Animas River, providing residents and visitors with easy access to outdoor activities such as fishing and kayaking.
One of the most popular lodging options in Escalante Village is Escalante Escapes, which offers visitors a unique glamping experience.
With stunning views of the surrounding mountains and natural landscapes, it's no wonder why this village has become a sought-after destination for those looking to escape the hustle and bustle of city life.
But Escalante Village isn't just about getting away from it all. Visitors can also explore Durango's historic downtown area, which is just a short drive away. Here, they can enjoy local restaurants and shops while taking in the city's rich history.
Whether you're looking for an adventure-packed vacation or simply want to relax in nature, Escalante Village has something for everyone. With its close proximity to Durango and its many attractions, this charming community is definitely worth checking out.
So if you're planning your next vacation or weekend getaway, consider visiting Escalante Village and experiencing all that this beautiful destination has to offer.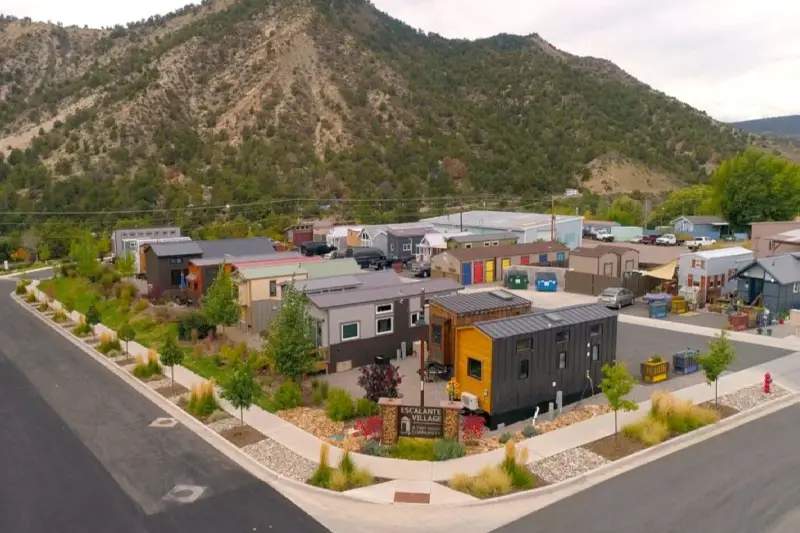 Unique Offerings of Escalante Village's Creative Spaces and Tiny Homes
Creative spaces and tiny homes in Escalante Village offer unique living experiences. The village's creative spaces are designed for artists, writers, and other creatives who want to live and work in a supportive community.
These spaces provide a haven for those who seek inspiration from the natural beauty of Colorado's landscape.
The creative spaces are designed to foster creativity, with large windows that allow natural light to flood the space, high ceilings that create an open atmosphere, and ample room for artistic endeavors.
In Escalante Village's creative spaces, residents can enjoy the company of like-minded individuals who share their passion for art and creativity. This sense of community is invaluable for artists and writers who often work in isolation.
The village provides a supportive environment where residents can collaborate on projects or simply bounce ideas off each other.
For those seeking a more minimalist lifestyle, Escalante Village's tiny homes are perfect. These homes are built with sustainable materials such as reclaimed wood and feature modern amenities such as solar panels and composting toilets.
Living in a tiny home allows residents to downsize their possessions while still enjoying all the comforts of modern living.
The tiny homes in Escalante Village come in various sizes, ranging from 200 square feet up to 500 square feet. Each home is thoughtfully designed to maximize space while maintaining functionality.
The use of multi-functional furniture such as Murphy beds or convertible tables ensures that every inch of space is utilized efficiently. Escalante Village's tiny homes also offer stunning views of Colorado's landscape.
Many have large windows that provide unobstructed views of the mountains or nearby forests. Residents can enjoy these views from their own private deck or patio area.
Living in Escalante Village allows residents to be part of a tight-knit community that values creativity, sustainability, and a connection to nature.
The village hosts regular events such as art shows, music performances, or workshops on sustainable living practices.
One of the unique offerings of Escalante Village's creative spaces and tiny homes is the opportunity to live in a community that prioritizes sustainability.
The village is committed to reducing its carbon footprint by using renewable energy sources such as solar power, composting waste, and using sustainable building materials.
Escalante Village's commitment to sustainability extends beyond its buildings. The village also encourages residents to adopt sustainable living practices such as reducing water usage, composting food waste, and recycling.
Living in Escalante Village offers access to a wide range of outdoor activities.
The village is located near several national parks and forests, providing ample opportunities for hiking, camping, or fishing. Residents can also enjoy kayaking or rafting on nearby rivers.
Also see: Tiny Homes Texas
Benefits of Choosing Escalante Village for Tiny Home Living
Affordability
One of the most significant benefits of choosing Escalante Village for tiny home living is affordability. With prices starting at just $30,000 for a lot and $80,000 for a completed home, Escalante Village offers an affordable option for those looking to downsize or live a more minimalist lifestyle.
Compared to traditional homes, tiny homes require less space and fewer materials, making them more cost-effective.
Sustainable Living
Escalante Village is designed with sustainability in mind. The village features solar power, rainwater harvesting, and composting toilets to reduce environmental impact. These sustainable practices not only benefit the environment but also help residents save money on utilities and reduce their carbon footprint.
Community Atmosphere
Residents of Escalante Village enjoy a strong sense of community. The village fosters a close-knit neighborhood through shared spaces and events that bring residents together. Community gardens, outdoor seating areas, and communal kitchens provide opportunities for socializing and collaboration among neighbors.
Location
Situated in Durango, Colorado, Escalante Village offers easy access to outdoor recreation opportunities like hiking, skiing, and mountain biking.
The location provides residents with stunning views of the surrounding mountains while still being close enough to town for convenient access to amenities like grocery stores and restaurants.
Customizable Homes
Residents can work with the village's builders to design and customize their own tiny homes to fit their unique needs and preferences. This level of customization allows residents to create a personalized living space that suits their lifestyle perfectly.
Low Maintenance
Tiny homes require less maintenance than traditional homes. With fewer square feet to clean and maintain, residents have more time to enjoy their surroundings rather than spending time on upkeep tasks. This low-maintenance lifestyle frees up time for hobbies or exploring the outdoors.
Social Proofs & Examples
Many people have already chosen Escalante Village as their preferred destination for tiny home living due to its many benefits. In a recent survey of Escalante Village residents, 90% reported feeling satisfied with their decision to live in the village.
One resident shared that "Living in Escalante Village has allowed me to simplify my life and focus on what's truly important to me."
Another resident praised the community atmosphere, saying "I love being part of a close-knit neighborhood where everyone looks out for each other."
Also see: Tiny Homes For Sale Georgia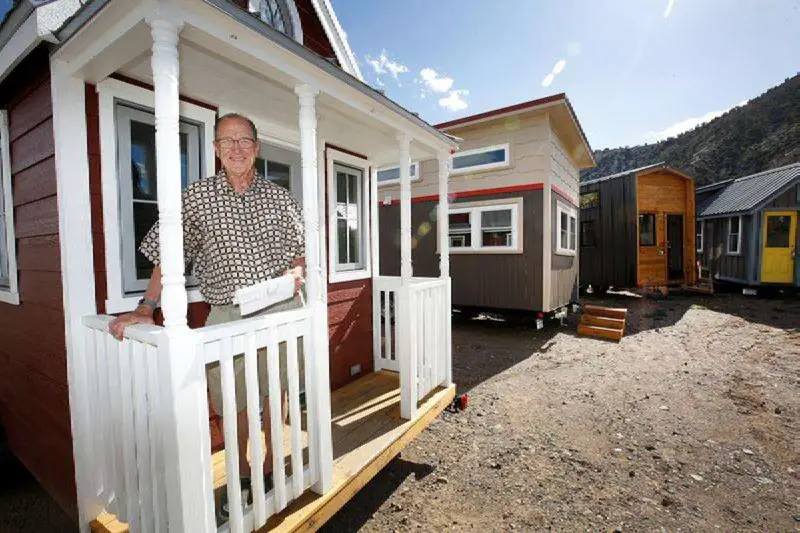 Six Available Spaces for Tiny Home Rentals
Escalante Village is a tiny home community located in Durango, Colorado. The village offers six available spaces for tiny home rentals, each with unique features and amenities. If you are looking to downsize and simplify your lifestyle, Escalante Village might be the perfect place for you.
Maximum Size of 400 Square Feet
Each space at Escalante Village can accommodate a tiny house with a maximum size of 400 square feet. This means that you can have all the comforts of a traditional home without the excess space and maintenance that comes along with it.
Living in a tiny home allows you to focus on what really matters in life, such as spending time with loved ones or pursuing your passions.
Water, Sewer, and Electrical Hookups
All six spaces at Escalante Village are equipped with water, sewer, and electrical hookups. This means that you can live comfortably without having to worry about utilities or infrastructure. You can simply move into your tiny home and start living the life you have always dreamed of.
Lofts for Additional Living or Storage Space
Some of the spaces at Escalante Village have lofts for additional living or storage space. Lofts are perfect for those who need extra room but don't want to sacrifice their living area. They are also great for storing seasonal items or other belongings that aren't needed on a daily basis.
Community Amenities
Tenants at Escalante Village can enjoy access to community amenities such as a clubhouse, laundry facilities, and a playground. These amenities provide opportunities to socialize with neighbors while also enjoying some downtime away from your tiny home.
Rental Rates Vary Depending on Location and Amenities
The rental rates for the spaces at Escalante Village vary depending on location and amenities. Some spaces might be more expensive than others due to their proximity to community amenities or their unique features such as lofts or outdoor living areas. However, all spaces are affordable and provide a great value for those looking to live in a tiny home community.
Final Thoughts
Escalante Village is an excellent option for those looking to downsize and simplify their lifestyle. With six available spaces for tiny home rentals, you can find the perfect space that fits your needs and budget.
Whether you are looking for additional storage space or want to be close to community amenities, Escalante Village has something for everyone. So why not start living the life you have always dreamed of in a tiny home at Escalante Village?
Also see: Tiny Homes In California
Location and Surrounding Area of Escalante Village
Escalante Village is a hidden gem located in Durango, Colorado. The village is situated at an elevation of 6,512 feet above sea level, providing breathtaking views of the surrounding area. The location of Escalante Village is perfect for those who love to explore nature and enjoy outdoor activities.
Stunning Natural Beauty
The surrounding area of Escalante Village is known for its stunning natural beauty. To the east lies the San Juan Mountains, which are part of the Rocky Mountains range.
The San Juan Mountains offer endless opportunities for hiking and mountain biking during summer months. Winter sports enthusiasts can also enjoy skiing and snowboarding in nearby ski resorts.
To the west lies the La Plata Mountains, another beautiful mountain range that offers scenic drives and hikes throughout the year. These mountains are home to many wildlife species such as elk, deer, black bears, and mountain lions.
Animas River
The Animas River flows through the area surrounding Escalante Village providing opportunities for fishing and water activities such as kayaking or rafting. This river is one of the last free-flowing rivers in Colorado with crystal clear waters that make it a popular spot for fly fishing.
Nearby Towns
The nearby town of Durango offers a variety of attractions including historic landmarks, art galleries, and outdoor recreation opportunities. Visitors can take a ride on the famous Durango & Silverton Narrow Gauge Railroad or explore downtown Durango's shops and restaurants.
Mesa Verde National Park
Mesa Verde National Park is another attraction located near Escalante Village. This park is known for its well-preserved ancient cliff dwellings built by Ancestral Puebloans over 700 years ago.
Visitors can take guided tours to learn about these fascinating structures or hike along trails that lead to other archaeological sites within the park.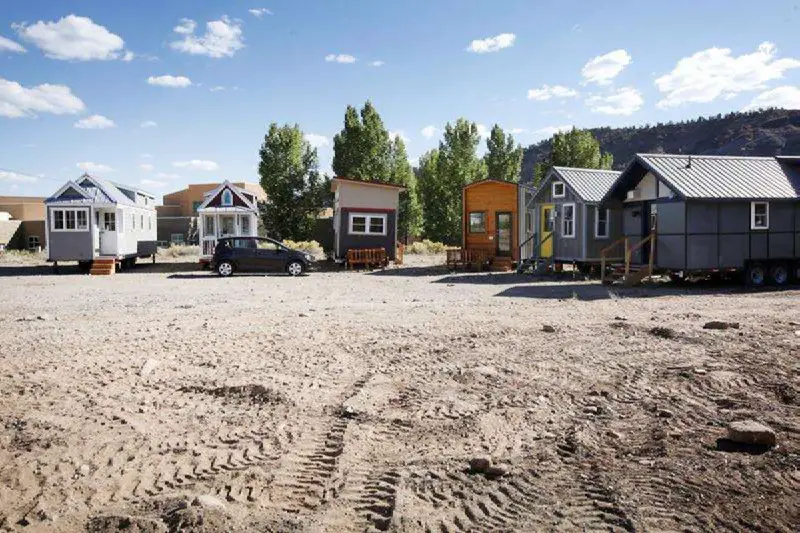 Sustainability Initiatives in Escalante Village
One of the most significant sustainability initiatives in Escalante Village is the community garden. This project provides fresh produce for residents and reduces the need for transportation emissions.
The garden is a collaborative effort between villagers, with each member contributing their time and resources to cultivate crops.
The community garden not only promotes sustainable living but also fosters a sense of community among residents. It encourages people to work together towards a common goal, strengthening social ties and promoting a healthy lifestyle.
Solar Panels: Reducing Reliance on Non-Renewable Energy Sources
In addition to the community garden, Escalante Village has installed solar panels on many of its buildings. This initiative helps reduce reliance on non-renewable energy sources, such as fossil fuels.
By harnessing the power of the sun, Escalante Village can generate clean energy that benefits both its residents and the environment.
Alternative Transportation Methods: Biking and Walking
Escalante Village encourages its residents to use alternative transportation methods such as biking and walking. These modes of transport are not only environmentally friendly but also promote physical activity and good health.
By reducing carbon emissions from vehicles, Escalante Village contributes to mitigating climate change while promoting healthy lifestyles among its residents.
Composting Program: Diverting Food Waste from Landfills
The village also has a composting program that diverts food waste from landfills and creates nutrient-rich soil for the community garden. Composting is an effective way to reduce greenhouse gas emissions from landfills while producing valuable fertilizer for crops.
Water Conservation Program: Low-Flow Fixtures and Rainwater Harvesting Systems
Escalante Village has implemented a water conservation program that includes low-flow fixtures and rainwater harvesting systems. These measures help reduce water usage while promoting sustainability within the community.
Recycling Programs: Encouraging Residents to Participate in Sustainable Practices
Finally, Escalante Village encourages its residents to participate in recycling programs and hosts educational events to promote sustainable practices within the community. By raising awareness about sustainability issues, the village empowers its residents to take action towards a more sustainable future.
Also see: Tiny Homes Oregon
Community Involvement Opportunities in Escalante Village
One of the best ways to get involved in the community of Escalante Village is by volunteering. There are many opportunities available for those who are interested in giving back to their community.
For example, you can volunteer at the local food bank or community garden, help out with a neighborhood cleanup project, or assist with after-school programs for children.
Participating in Community Events and Activities
Another great way to get involved in the community is by participating in local events and activities. The village hosts a variety of events throughout the year, including festivals, parades, and concerts. By attending these events, you can meet new people and learn more about your neighbors and their interests.
Joining Local Committees and Boards
If you're looking for a more long-term commitment to your community involvement efforts, consider joining one of the many committees or boards that exist within Escalante Village.
These groups work on issues ranging from public safety to economic development to environmental sustainability. By joining one of these committees or boards, you can have a direct impact on shaping the future of your community.
Donating to Local Causes and Organizations
For those who may not have as much time to volunteer or attend events but still want to make an impact on their community, donating money or resources is another option.
There are many local causes and organizations that rely on donations from residents to continue their important work. Whether it's supporting a local animal shelter or contributing funds towards a new playground for children, every little bit helps.
Supporting Small Businesses in the Village
Small businesses are often the backbone of any community, providing jobs and essential services while also adding character and charm to neighborhoods. In Escalante Village, there are many small businesses that could use support from residents.
Whether it's grabbing lunch at a local café or shopping at a family-owned store instead of a big-box retailer, supporting small businesses is an important way to contribute to the local economy.
Attending Town Hall Meetings and Voicing Concerns or Ideas
Finally, attending town hall meetings is another way to get involved in the community. These meetings provide an opportunity for residents to voice their concerns or ideas directly to local officials and decision-makers.
By attending these meetings, you can stay informed about what's happening in your community and have a say in its future.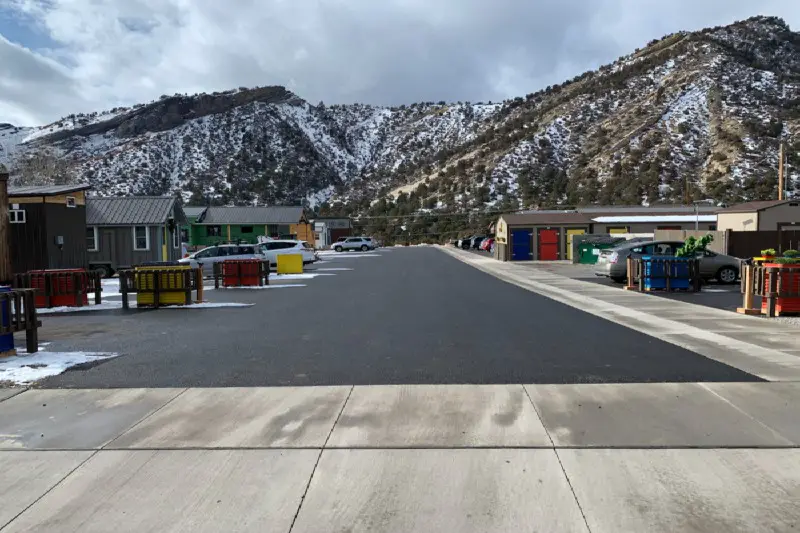 Amenities and Facilities in Escalante Village
Escalante Village offers a variety of amenities and facilities that cater to the needs of its residents. From community centers to sports fields, playgrounds, and walking trails, the village has something for everyone.
Community Center
The community center is one of the most popular gathering spots in Escalante Village. It features a kitchen, meeting rooms, and outdoor patio space where residents can host events or meetings.
The center is also used for various activities such as yoga classes, dance lessons, and art workshops. The community center provides an excellent opportunity for residents to connect with their neighbors and build a sense of community.
Playgrounds
Escalante Village has two playgrounds that offer equipment for children of all ages to play on. These playgrounds are located in different areas within the village so that they are easily accessible from any part of the community. The playgrounds provide a safe environment for children to play while their parents can relax nearby.
Sports Fields
Sports enthusiasts will appreciate the sports fields available in Escalante Village. The village has a soccer field, baseball diamond, and basketball court where residents can enjoy playing their favorite sports. These facilities are well-maintained and provide an excellent opportunity for residents to stay active while enjoying the outdoors.
Walking Trails
Escalante Village has several walking trails that wind through the community providing scenic views of the surrounding landscape.
These trails are perfect for those who love nature walks or jogging in a peaceful environment away from traffic noise. Residents can enjoy these trails at any time of day throughout the year.
Convenient Location
In addition to these amenities, Escalante Village is conveniently located near shopping centers, restaurants, and other attractions. This makes it easy for residents to access essential services such as grocery stores or medical facilities without having to travel far from home.
Residents have expressed their satisfaction with these amenities provided by Escalante Village. They have praised the community center for being a great place to host events and connect with neighbors.
The playgrounds are also popular among parents who appreciate the safe environment they provide for their children to play in.
Sports enthusiasts have also commended the sports fields for being well-maintained and providing an excellent opportunity to stay active.
Also see: How Much Do Tiny Homes Weigh
Events and Activities in Escalante Village
Escalante Village is a hub of activity throughout the year, hosting various events and activities that cater to both locals and visitors. From outdoor adventures to cultural celebrations, there's always something happening in this vibrant community.
Community Center: A Venue for Gatherings
The Escalante Community Center serves as a venue for different gatherings and functions throughout the year. The center hosts everything from weddings and birthday parties to community meetings and classes.
It's a great place for locals to come together and socialize while also providing an excellent space for visitors to experience the culture of the village.
Fourth of July Parade & Fireworks Display
One of the most popular events in Escalante Village is the annual Fourth of July parade and fireworks display. This event draws people from all over the region who come to celebrate Independence Day with their friends and family.
The parade features floats, marching bands, classic cars, and more, while the fireworks display lights up the night sky with an impressive show.
Farmers Market Every Saturday During Summer Months
During summer months, Escalante Village has a farmers market every Saturday where visitors can purchase fresh produce and artisanal goods. The market is held at the community center parking lot, making it easy for everyone to access.
Local vendors offer everything from fruits and vegetables to handmade crafts, baked goods, honey, jams, jellies, and more.
Hiking & Biking Trails
Outdoor enthusiasts will find plenty of opportunities for adventure in Escalante Village. There are several hiking trails nearby that offer stunning views of the surrounding mountainside.
One popular trail is "The Old Spanish Trail," which takes hikers through beautiful terrain filled with wildflowers during springtime.
For those who prefer biking over hiking or walking can take advantage of several bike trails around Escalante Village that provide scenic routes through forests or mountain ranges.
Fishing in San Juan National Forest
Fishing enthusiasts will enjoy exploring San Juan National Forest, which is located near Escalante Village. The forest offers a variety of fishing opportunities, including fly-fishing in the Animas River or trout fishing in nearby lakes and streams.
Skiing & Snowboarding at Purgatory Resort
During winter months, visitors can go skiing or snowboarding at the nearby Purgatory Resort. This resort offers some of the best skiing and snowboarding experiences in Colorado with over 1,600 acres of skiable terrain.
There are also plenty of other winter activities available for those who prefer not to ski or snowboard.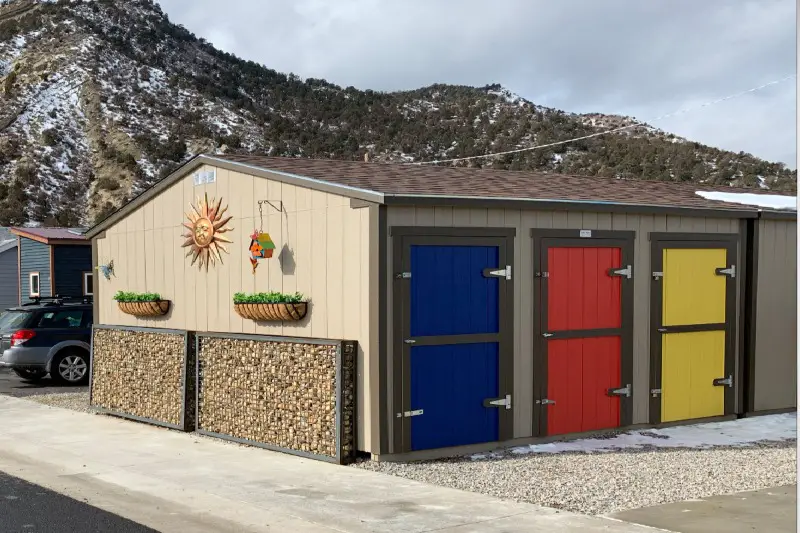 Why Escalante Village is the Perfect Place for Your Tiny Home Lifestyle
Sustainability and Eco-Friendliness
One of the most significant advantages of living in Escalante Village is the community's focus on sustainability and eco-friendliness.
The village's commitment to sustainable living is evident throughout the community, from the use of solar panels for energy to the implementation of a comprehensive recycling program.
Residents can take advantage of a range of eco-friendly amenities, including composting stations, rainwater harvesting systems, and community gardens.
The community garden provides residents with an opportunity to grow their own fresh produce while reducing their carbon footprint by avoiding store-bought produce that has been transported long distances.
The village also offers electric vehicle charging stations for those who drive electric cars. This amenity encourages residents to adopt more sustainable transportation options while reducing emissions that contribute to climate change.
In addition to these environmental benefits, living in a sustainable community like Escalante Village can also have financial benefits.
By reducing energy consumption and waste production, residents can save money on utility bills and other expenses associated with maintaining a home.
Community and Connection
Another key benefit of living in Escalante Village is the strong sense of community that exists within the neighborhood. The shared amenities like the community garden and workspace encourage residents to connect with one another and build relationships based on common interests.
The village also hosts regular events such as potlucks, movie nights, and game nights that provide opportunities for socializing and getting to know neighbors better.
These events foster a sense of belonging among residents while creating a supportive network that can be invaluable in times of need.
Affordable Housing Options
Escalante Village's affordable housing options make it an attractive choice for those looking to own their own home without breaking the bank.
Tiny homes are significantly less expensive than traditional homes, making them an excellent option for first-time buyers or those looking to downsize.
Moreover, tiny homes require less maintenance than larger homes which means fewer repair costs over time. This affordability and low maintenance make tiny homes an excellent investment for those looking to save money in the long run.
Proximity to Downtown Durango
Escalante Village's proximity to downtown Durango is another significant advantage of living in this community. The city offers a vibrant arts and culture scene, with numerous galleries, theaters, and museums that showcase local talent.
Residents can also take advantage of the city's many restaurants, cafes, and shops. The city's walkability makes it easy to explore on foot or by bike, further reducing residents' carbon footprint while providing a fun way to stay active.
Also see: Can Tiny Homes Withstand Hurricanes
FAQ
1. What is Escalante Village and where is it located?
Escalante Village is a residential community located in Durango, Colorado, USA. It is situated on the north side of the Animas River, just west of downtown Durango.
2. What are the types of homes available in Escalante Village?
Escalante Village offers a range of housing options, including townhomes, single-family homes, and custom homes.
3. What amenities and facilities are offered in Escalante Village?
The community offers a range of amenities, including a clubhouse, fitness center, outdoor swimming pool, hot tub, playground, and several parks and green spaces. There are also walking and biking trails throughout the community.
4. How much do homes cost in Escalante Village and what are the financing options available?
The cost of homes in Escalante Village varies depending on the size and style of the home. As of May 2023, prices range from around $350,000 to over $1 million.
5. What are the nearby attractions and places of interest near Escalante Village?
Escalante Village is located in close proximity to several popular attractions and places of interest, including the Durango & Silverton Narrow Gauge Railroad, Mesa Verde National Park, Purgatory Resort, and the San Juan National Forest.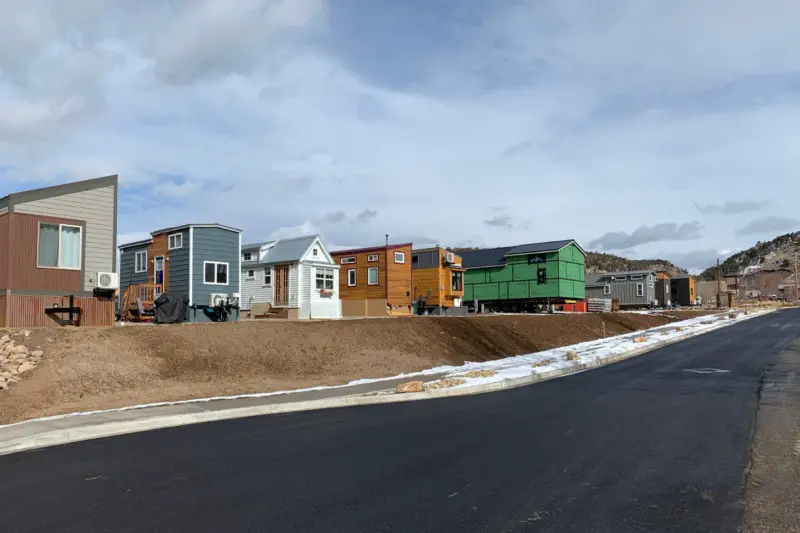 Conclusion
Escalante Village is a unique and innovative community that offers an unparalleled living experience for those seeking to downsize and live sustainably.
With six available spaces for tiny home rentals, residents can enjoy the benefits of a close-knit community while still having their own private space.
The location and surrounding area of Escalante Village provide residents with easy access to outdoor activities such as hiking, biking, and skiing.
The sustainability initiatives in Escalante Village are impressive, with a focus on reducing waste and conserving resources. Residents have the opportunity to get involved in community involvement opportunities that promote sustainable practices.
The amenities and facilities in Escalante Village are top-notch, with everything from a communal kitchen to a shared bathroom facility. The creative spaces available for rent offer unique opportunities for artists and entrepreneurs alike.
Events and activities in Escalante Village bring neighbors together for fun-filled experiences that foster a sense of community. From movie nights to potlucks, there's always something going on in this vibrant town.
Other related articles